What Size Pan???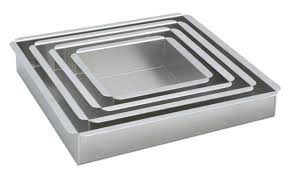 This has got to be one of the most argued/debated/heated discussions I've heard decorators get into about cakes.  You may agree with what I have to say or not, and I'm okay with knowing that there are some of you out there who will say "oh, she's wrong!"… and I will just be quiet about knowing that I'm not! (just kidding 🙂
The most important goal of this discussion… after reading this, whatever pan size you chose to use….
STICK WITH IT
!!!  The worst thing you can do is get your customer base expecting one thing and changing mid-stream without telling them.
I believe the best piece of advice you could take away from this little 'blurb' – ask your customers how many people they need to serve rather than just taking an order for "a _____ size sheet cake" and having them upset that they have way too much or not enough cake.
What sizes I use:
1/4 sheet – 7×11 – 1 mix
        1/3 sheet – 9×13 – 1 1/2 mix
1/2 sheet – 10×15 (or 11×15) – 2 mix
2/3 sheet – 12×18 – 3 mix
full sheet – 22×15 – 4 mix
Why I use these sizes:
"Back in the day" when bakeries used to actively use the tin foil disposable pans, the full sheet pan held 4 mixes.  (*Yes, I know this for fact after helping with a fund raiser at my kids elementary school years ago and they used said pans…)
So, here's where the whole debate came into play… those pans are 24×18 (I used to sell them in my store and literally measured one so no one can email me and say I'm giving false information! 🙂  So, why not make a full sheet cake that same size???  It's simple… those disposable pans are not two inches deep, they are closer to 1 1/4″ deep so while the actual size may be the same, the depth is not.  In essence… when giving a customer a two inch tall 12×18 for a half sheet, or two 12×18's for the full sheet, you are giving them 50% more cake than they used to get.
My next "point of argument"… I have yet to see a "full sheet box" from any manufacturer that is large enough to hold those two 12×18 cakes that some people insist are a full sheet.  I'm not saying it's not out there somewhere – just that the four different companies I order boxes from don't have such a thing. If that was really what a full sheet was supposed to be, there would be 22×28 boxes readily available – at least in my ever so humble opinion. 🙂
(This is a single 12×18 sheet, with just a few random cuts stacking
the cutaway pieces 'here and there' to create hills…)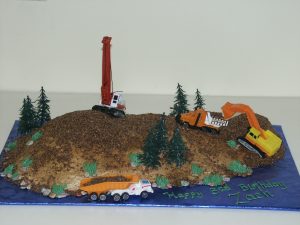 Again, at the end of the day… use what size pan you want to use – just remember these two things:
   – make sure you are providing the number of servings your customer needs!
   – stick with decided size for your ____ (half, qtr, etc…) cake to avoid confusion with your customers.
Also… even if you use a 12×18 as a half sheet – this doesn't mean you can't still sell an 11×15 cake if your customer only needs 30 servings (just say something like "my half sheet is quite a bit more cake than you need, but I have a smaller pan that would be perfect.")
Happy baking!
Di 🙂